Description
The OB3000 Tablet Time Clock requires a subscription to the affordable Citadel Cloud Time and Attendance System. See subscription pricing details below.
Large 7" capacitive touch screen radiantly displays time and attendance data
Fingerprint sensor captures every employee punch securely in the cloud
Choice of fingerprint, RFID card, or PIN punching based on business needs
Built-in camera can append photos to any punch and take employee ID photos
Backup battery included for time clock use at any offsite location (OB3000 only)
Choice of WiFi or LAN configuration to connect time clock to cloud software
Lifetime guarantee
Data flows instantly and seamlessly from time clock to cloud for 24/7 access
All time and attendance data captured in cloud for lightening quick management
Required cloud subscription includes unlimited lifetime storage and software updates
Unlimited support available seven days a week via phone, text, chat, or email
Up and running in just a few steps using the simple guided setup wizard
Efficient management of employees, roles, departments, and punch policies
Create rules for rest times, mealtimes, overtime hours, holidays, pay periods, pay codes, punch rounding, accruals, shifts, and more
Easily apply same or different rules by departments, groups, or individuals
Simple department transfers ensure accuracy for allocating employee hours
Real time alerts available via email or text for employee punch management
Run reports on individual employees or across entire company or organization
Review reports on overtime, vacation, holiday, and all other hours
Export pay period hours in minutes
Tablet stores punches in offline mode and sends to cloud when reconnected
Greetings, messages and notes can be sent directly to employees via time clock
Benefits
High quality, affordable, modern, dependable, and backed by a lifetime warranty
Secure biometric fingerprint punching stops buddy punching in its tracks
Eliminate significant costs on time cards, ink ribbons, and manual calculations
Cloud data available anytime from the office, at home, or on the road
No contracts to sign, no costly software to install, no manual upgrades to manage
Store a little or a lot of data with no limits on capacity and always accessible
Time cards, pay periods, work hours, and payroll calculations all automated
Saves time, money, and resources by simplifying time and attendance management
Subscription
Citadel Time Clock Touch Tablet System requires a monthly cloud subscription plan or the product will not work. Affordable plans are available for every size business.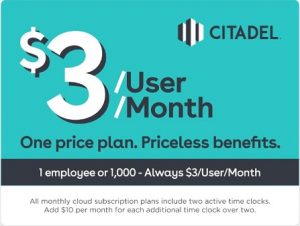 The OB2000 Tablet Time Clock requires a subscription to the affordable Citadel Cloud Time and Attendance System. See subscription pricing details below.
All monthly cloud subscription plans include receiving punch data from two time clocks. Add $10 per month for each additional time clock over two.